The Caucasian Shepherd
The legend relates that the ancestor of this dog breed were tibeta shepherds which had come in the Caucasian region more than 2000 years ago.
A lot from nobles of Georgia were used to represent the Caucasian Shepherd in their roats of arms. This breed is very diffused in Georgia, in Armenia, in Azerbaijan, in others Caucasian areas and in Astrakan.
Long wolks, the harsh climate and fights against wolves have let them develop power and bravery. On the contrary in Europe this dog is quickly diffusing and it is considered as a perfect warning dog, without forgetting than these dogs are lovely towards their owners. They are powerful, strong and extremeli dominating. They need to be respected and bred. They are balanced but they cannot stand to be ill-treated or chellenged. They are usually calm and quiet but if they are provoked, only the owner can dominate them.
In the family it is a sweet adn quiet dog, it respect all the members and especially children are kept safe under its control. In the origin country where the breed is largely diffused, some speciment are trained for personal difence. It's very important for the owner of this dog to let it socialize since it is a puppy, letting it going out and attending strangers and others dog.
Central Asia Shepherd
Its origin region is huge and belongs to Turkmenistan, Kazakistan, Russia and to other areas of Pamir alley. Its origin is very old and along the centuries it has not experienced particular morphological changes because it was extremely isolated.
Accordling to the laws of natural selection during milleniums and to difficult conditions and hostile places, it has developed a strong and indipendent character. It's fundamentally balanced, and it's very good for warninng and defending even without training. It's very brave and rapid in reaction, if under threat of any danger, and it's never aggressive without justification. In the family it is trustworthy and lovely whis each member of it. Anyway the owner has to give it a great attention in order to let it feel a strong relationship with is leader. In its first year of life is very important the socialization and the confinedce with all the aspect of the daily life (as noise and people), and especially whit other dogs. Is very important to avoid the mistake of not litting it getting in touch withe there latter.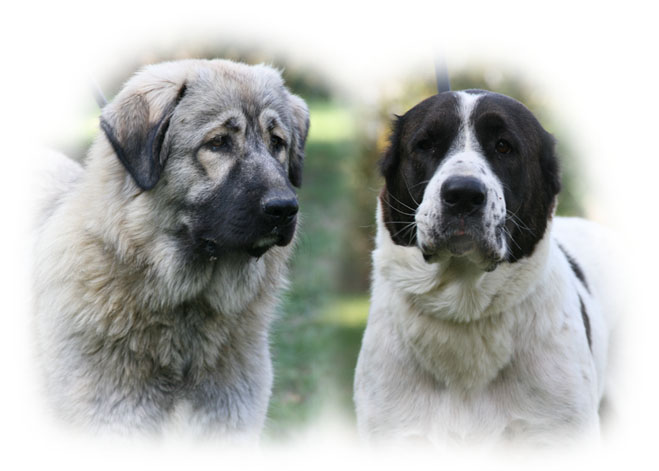 Caucasian Shepherd Specifications
Origin: Russia
Use: Sheperd dog, guard and self-defence dog
FCI Classification
Group 2: Pinscher and Schnauzer, Molossians and Mountain Dog and Bernese Mountain Dog
Selection 2.2: Mountain Dog
First Group

Pinscher and Schnauzer, Molossians and Bernese Mountain Dog

second section: molossians

Tail

Hagh and hanging down. It has the shape of a scyte or an hook and the end closes as a ring

Size

At least 65 cm to withers for males; 62 for female

Colours

Grey delicately shaded, ginger, straw, white, reddish brow, spotted and piebald. The predominance of black is a serious defect.

Coat

The hair is straight and rough, with thick under-coat. Three kinds exist: lohg hair with mane, long hair without mane and short hair.

Eyes

Little, oval and dark

Ears

High and generally shortly cut

Head

Solid and large with parallel cranium-facial axes

Feet

Big, oval, solid and closed
Central Asia Shepherd Specifications
Origin: Russia
Use: Sheperd dog, guard and self-defence dog
FCI Classification
Group 2: Pinscher and Schnauzer, Molossians and Mountain Dog and Bernese Mountain Dog
Selection 2.2: Mountain Dog
First Group

Pinscher and Schnauzer, Molossians and Bernese Mountain Dog

second section: molossians

Tail

Up and high. It has the shape of a scythe

Size

At least 65 cm to withers for males; 60 cm for female

Weigh

From 55 kg to 65 kg for males; from 40 kg to 55 kg for females

Colours

White, black, grey, straw, tawny, grey-brown, stripped, spotted, speckled

Coat

Rough e straight hair, with well developed under-coat. You can distinguish between two different varieties: long hair and short

Eyes

Dark, round and slightly apart

Ears

Little, pendent, bent and triangular

Head

Solid, large with a flat forehead

Feet

Strong, oval, solid and closed